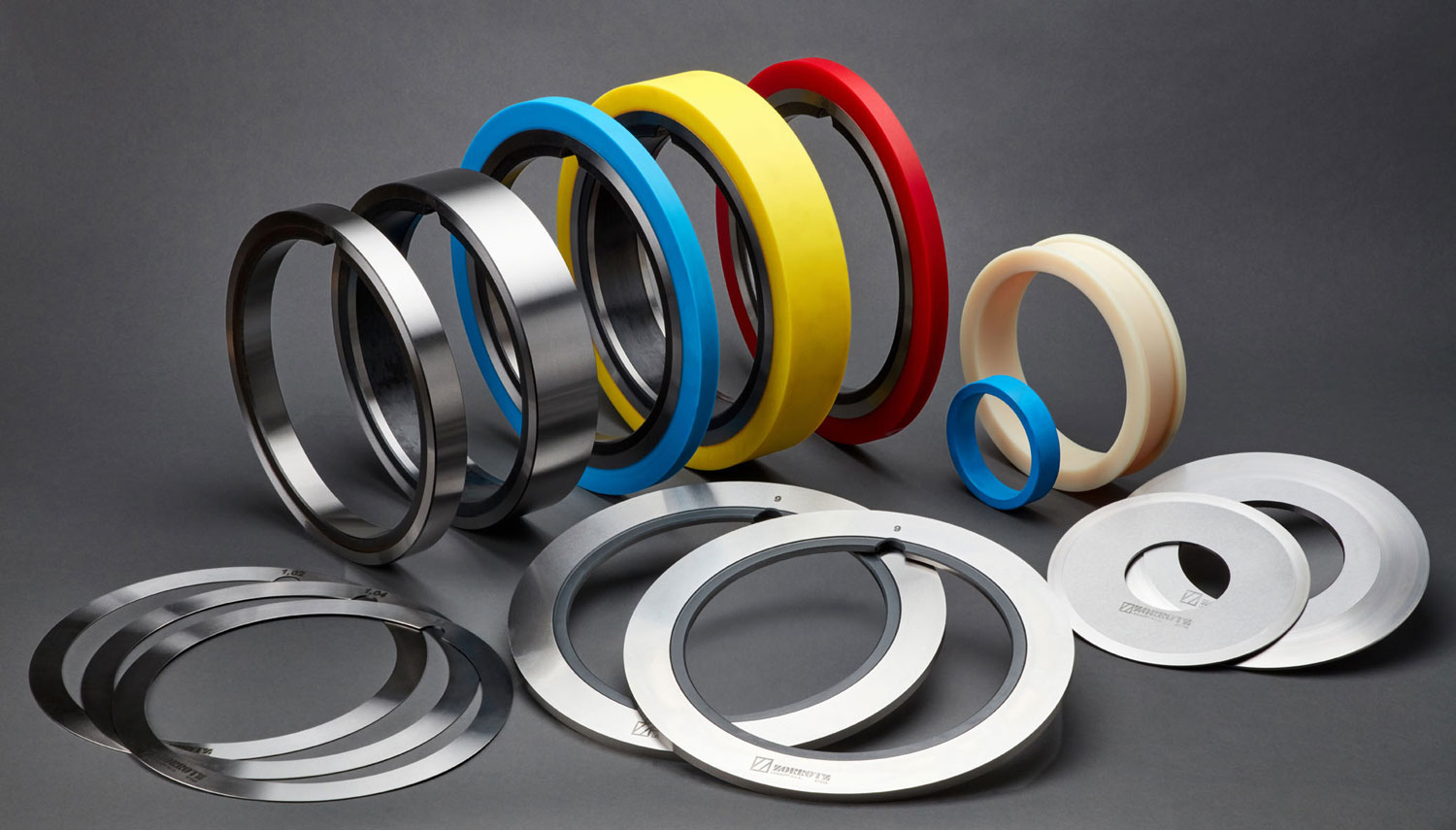 1.A SLITTER KNIVES
We manufacture all types of metal slitter knives.
Depending on the required cutting specifications, we make our experience available to the customers, in order to define the knife's the most appropriate characteristics for each situation.
We avail of a wide range of tool steel with diverse characteristics, which allows us to cover all customer needs.
In order to guarantee the customer's trust, it is worth highlighting our commitment to the quality and traceability of all our products.
We source raw materials from the main European suppliers of tool steel and 100% of all production processes are carried out internally.
Main characteristics
High wear resistance
High toughness
The most demanding dimensional and geometrical tolerances
Coating and surface finishing
Processing materials
Carbon Steel (Hot / Cold Rolled / Galvanized…)
Stainless Steel (Ferritic / Austenitic / Duplex)
High-strength steel (HSS /AHSS)
Magnetic steel (CRGO / CRNGO)
Aluminium
Copper
Brass
1.B RUBBER BONDED SPACERS
Rubber-bonded spacers are an important element for the slitting process.
In order to solve problems and overcome limitations of the slitting process, the correct choice and configuration of the dragging elements ( male and female) are essential.
These elements are needed to:
Drag and eject the strips
Protect the strips from unwanted marks
Prevent bending / deformation of strips
The metal core is made of hardened tool steel, which garantees a long lifetime.
The rubber ring perfectly bonded to the core and manufactured with the best compounds guarantees high elasticity and durability. (Polyurethane or rubber depending on the application).
A wide range of colours is available to easily differentiate each element.
Main characteristics
Core hardened body
Selection of bounding compounds / hardness
High grip and oil resistance
Wide range of colours
Male and female cutting system
Lightweight design of spacers
1.C RUBBER STRIPPER RINGS
As for the rubber bonded spacers, we can provide rubber stripper rings that can be fitted on the outer diameter of the metal spacers.
Rubber stripper rings perform the same functions as rubber bonded spacers. They can be manufactured to be adjusted to the metal spacers' OD, with different fit (Snug / Loose).
Available in a wide range of colours and at different harndesses, depending on the required application.
Main characteristics
Good grip and oil resistant / Multiple harnesses available
Selection of fit to the metal spacer
Wide range of colours
1.D METAL SHIMLESS SPACERS
We offer core hardened metal spacers, made from conventional alloy and stainless steels.
Our metal spacers are manufactured with "shimless" tolerances and meet the same requirements, in terms of geometry and precision, as the knives.
Metal spacers are used together with rubber bonded spacers, for the precise positioning of the knives on the slitting head.
To ensure the correct clearance between knives is achieved, we can provide thin spacers in a variety of decimal and centesimal sizes, and calibrated to a tolerance of +/- 1 μm. (0,00004")
Main characteristics
Thickness tolerance +/- 0.001 mm (0,00004")
Core hardened
Available in stainless steels
1.E PLASTIC SHIMS
For slitters without shimless spacers, we can supply plastic shims of diffetent thicknesses and colours for manual adjustment in order to achieve the correct gap between the knives.
1.F LIGHTWEIGHT DESIGN SPACERS
In order to optimise handling during setup preparation, we at Zorrotz have designed multiple lightweight spacers solutions, with the goal of improving ergonomics and complying with current safety regulations in the workplace.
Main characteristics
Thickness tolerance +/- 0.001 mm (0,00004")
Customised reliable solutions
Weight reduction up to 70%
1.G SEPARATOR DISCS / OVERARM SPACERS
Separator discs and spacers, allows to maintain precisely separated strips during the slitting process and a perfectly aligned and smooth recoiling.
Main characteristics
Made of wear-resistant alloy tool steel
Coatings available
Overarm spacers available in a variety of materials and colours
1.H CHOPPER KNIVES
In order to correctly extract the edges of the coils trimmed during the slitting process, chopper knives are used. We manufacture these knives in several different geometries and dimensions according the slitter manufacturer design.
Main characteristics
Wide variety of tool steel, depending on the application
Wide variety of geometries (radius, helix…)